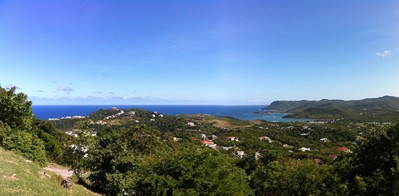 SYLLABICATION: Saint Lu·cia
PRONUNCIATION: Saint Loo Sha
St Lucia is said to be one of the early finds of Christopher Columbus, describing it to be the most beautiful island in the region. Simply beautiful! St Lucia is the emerald island in the Caribbean where you will find a unique mixture of history, culture and quiet charm. It is rich in natural beauty, from inland tropical forests to dramatic waterfalls and lovely sandy beaches.
St Lucia is famous for the twin peaks of the magnificent Pitons, rainforest walks, waterfalls, golden beaches and bubbling volcanic springs. It even boasts the world only drive-in volcano.
The St Lucian Jazz Festival attracts visitors from all over the world every May and Carnival in July is a week-long party for the whole island. In fact, St Lucians love to party and beside the annual flower festivals, Christmas, New Year, the Calypso Competition and the Independence Day celebrations, some of the villages hold main street jump ups every Friday night of the year.
For a comprehensive guide to St Lucia, and more on St Lucia – click here.